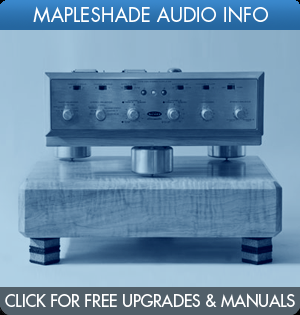 DOUGLAS ALLANBROOK
Allanbrook Symphony No.2 & No.3
The emotion, profundity and harmonic richness of these two stunning symphonies reach far beyond familiar American contemporaries like Copeland, Barber, Thomson, Piston, and Ives. These Allanbrook pieces — one honoring his fallen comrades in WWII, the other a luminous portrait of the four seasons — draw the listener in as powerfully as Stravinsky, Shostakovich, or Ravel.

TEST OUR VIBRATION CONTROL SYSTEM

Try out the transforming effect of our vibration control system on your CD or Blu-Ray player, turntable, or amp. Our system has three elements: brass footers drain vibration out of the component or speaker and down into a platform; air-dried maple platforms receive and dissipate that vibration; and Isoblocks under the platform isolate it from resonances below it (except for speaker platforms). Each element alone will upgrade your sound. Used together, they yield startling improvements. Here are the fundamentals...